Ideas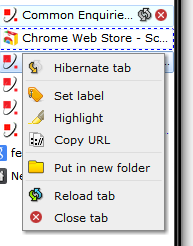 Currently, the default ordering does not take into account frequency of usage.
Suggested ordering,
Close Tab
Hibernate Tab.
Put in new folder
----

Set label
Highlight
Copy URL
----
Reload tab
The aim is to focus on multiple tab operations which can only be done using the tree bar.
The close tab should be first, as it will be frequently used to close multiple tabs at the same time.
Reload tab is at the bottom because it is rarely that we need to reload multiple tabs. (Reload single tab - already has its own button in chrome)